The entire building services at a glance
The FIS building management system from HERMOS makes building control visible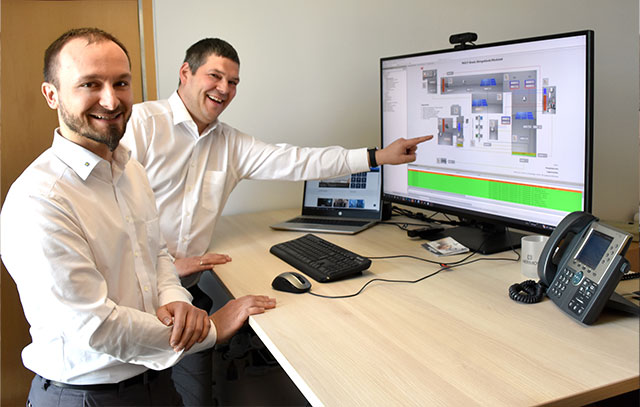 If the heating is to be adjusted at the university in Bayreuth, at the airport in Frankfurt/Main or in many other buildings, then the software of HERMOS AG from Mistelgau is used for building management. Because FIS makes all data visible and displays them clearly – just as the customer would like it.
The IT Application department at HERMOS is behind the FIS building management system. The team of 15 is responsible for both new installations of the building management system and its maintenance for existing customers. "No two installations are the same," reports Thomas Weise, IT Application Team Leader at HERMOS. For each building and each installation, he says, the system has to be customized and adapted to the customer's individual requirements. In most cases, the ideas and wishes of planners or the subsequent operators must also be taken into account. "We can adapt our FIS building management system to all plants and many different types of equipment," says Thomas Weise. The spectrum of devices integrated and monitored by the system ranges from heating and ventilation to air conditioning units and locking systems.
"We are very successful with our FIS building management system," Thomas Weise continues. Often, he says, the system is already set when it comes to customer expansions or renovations. "Whoever works with our system once, stays with it," is the assessment of the team leader, who is looking for new employees for further applications at customers. After all, in addition to many new projects, HERMOS also has the further development of FIS Energy on the agenda, a project under the heading of "green future," which will focus much more strongly on the areas of energy data management, process optimization, peak load monitoring and savings. "We are thus going one step further, in addition to pure data analysis and plant control, and including important topics for the future," says Thomas Weise.
Alexander Rosenbusch describes how interesting and diverse the tasks in the IT Application area of HERMOS are. He has been with the company for twelve years and has already been involved in numerous projects. For him, the mix of different tasks is exciting. In addition to the configuration of FIS and the Pflege of databases, programming work is also part of the job. "But we're also on the road at the customer's site when it comes to installing new equipment and running tests on it," he says, reporting on his varied day-to-day work, some of which he can do from his homeoffice. "No project is identical. That's why you always have to face new challenges," he says. There are smaller projects that are completed after a few weeks, but also real "long-runners" that run for several months, he says. "Especially with the larger projects, we really work together as a team," says Alexander Rosenbusch.
Both he and his boss Thomas Weise, who has even been with HERMOS for over 20 years, appreciate the family atmosphere at HERMOS. In addition to always up-to-date technical equipment and modern workplaces as well as numerous benefits for the employees, for both of them it is the collegial "Du" atmosphere across all hierarchies. And because the tasks at IT Application are so varied, the team is open to both qualified electrical engineers, communications engineers or computer scientists, but above all also to career changers who, in addition to technical interest and a certain software affinity, should above all have an understanding of interrelationships and the ability to think holistically.