From the school desk to the control cabinet
Formerly together on the school desk, now at the control cabinet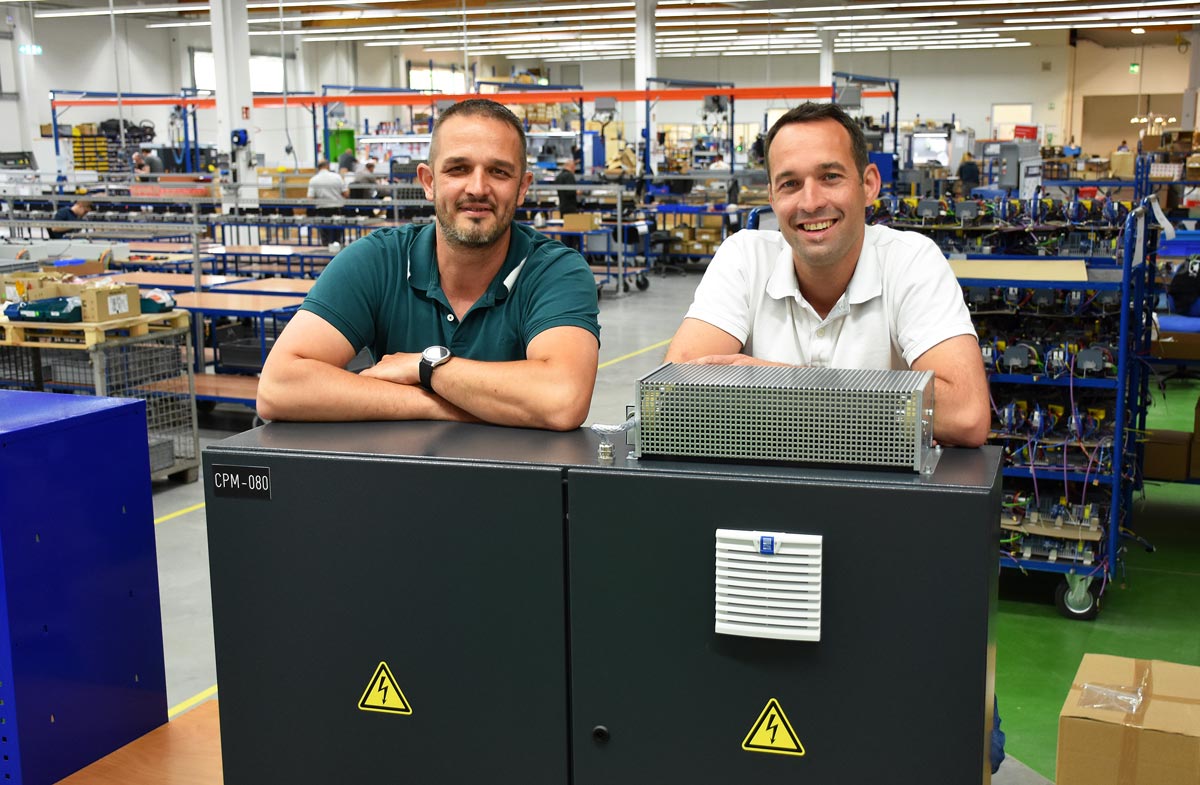 Andreas Krauß and Andreas Strömsdörfer have known each other since their school days and now manage sales at HERMOS in Wolfsbach.
They are colleagues, they are friends, and they make sure that things really get going at HERMOS Schaltanlagen GmbH in the new branch in Bayreuth/Wolfsbach: Andreas Krauß and Andreas Strömsdörfer have made a career in the company – from training as electronics technicians for industrial engineering to production to the sales team for small case and series production that one manages and is supported by the other.
"What are you doing?" the two Andreas' asked each other on the first day of their apprenticeship at HERMOS in 2000. They knew each other from school, but knew nothing about applying to the same company. "But it was good to have known one another," Andreas Strömsdörfer recalls of the first day of the three-and-a-half-year apprenticeship. The first path the two took together in their careers.
Later, as skilled workers, they managed a major project for HERMOS and together built more than 1,200 control cabinets a year – a task that normally requires many more helping hands. Why they did it? "The company trusted us to do it," the two say in unison, clearly proud of this achievement.
The career paths of the two then diverged briefly. Andreas Krauß switched to sales and took further training to become an industrial foreman in electrical engineering. In the meantime, he has become team leader of the sales team for small case and series production. And his team now includes his old classmate again, because he, too, has switched to sales. "It is important that our sales experts have an idea of production and practice," says Michael Hohlweg, managing director of HERMOS Schaltanlagen GmbH. The job is not just pure sales, he adds. "They are an important link between customers on the one hand and production on the other. This function is important because the project business is becoming more and more challenging and the projects are becoming more and more individual," Hohlweg says. That is why he is also happy to have the new branch in Wolfsbach with 4500 square meters for warehouse and production, where there is enough space for the successful company.
"We are so successful that we still need additional forces to be able to process all orders," says Hohlweg. "Applicants should have electrical engineering training," he says. Qualification as a switchgear engineer then takes place in the company and in practical work.
Andreas Strömsdörfer and Andreas Krauß have both been with HERMOS for more than 20 years. "I feel lifted. The company is like a second family to me," says Strömsdörfer about the good working atmosphere. Andreas Krauß also looks at the development opportunities in the company: "HERMOS has given me a perspective."
The two old schoolmates clearly enjoy working at HERMOS and a genuine friendship has developed over all the years they have spent together. "One complements the other and we understand each other blindly," both say.