Accompanying projects from start to finish
From the small control cabinet to the complex building control system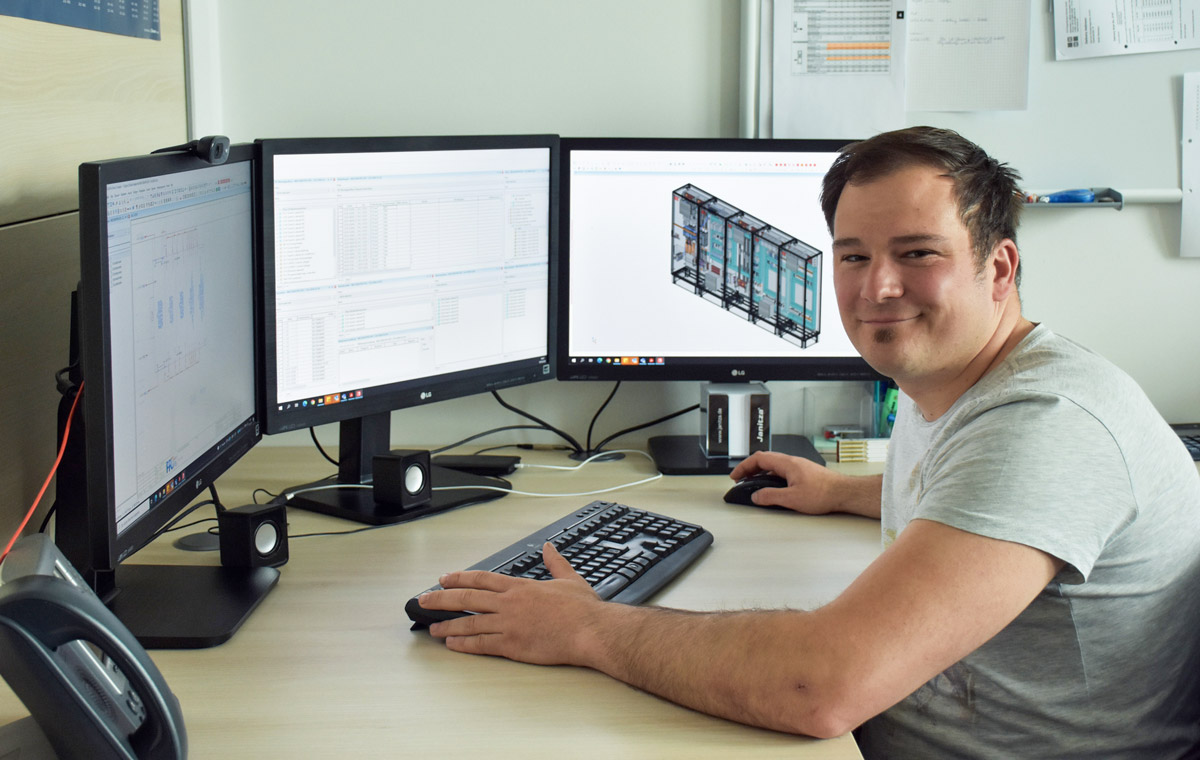 HERMOS continues its success story and offers opportunities in all areas
From small control cabinets to complex building control systems: HERMOS Schaltanlagen GmbH designs and builds control cabinets for the whole world. The company from Mistelgau continues to write its success story and grows in all areas.
An important component of HERMOS Schaltanlagen GmbH is, in addition to the in-house production, at meanwhile three locations, among other things the construction. Here, the plants are developed and planned according to the specifications of planners or, for example, heating and ventilation engineers, in order to then be manufactured tailor-made for each individual project.
One of the design engineers at HERMOS is Stefan Hagen. The 31-year-old has been with the company since 2007. He started with an apprenticeship as an electronics technician for industrial engineering and, after completing his apprenticeship, went on to become a master craftsman. After an "excursion" to another company with a focus on the assembly and commissioning of biogas plants, he returned to HERMOS in 2014 and now works in construction. "An almost ideal career", as he finds, because he knows both the production and testing of the switchgear in the company and the work on site at the construction site. What he also needs for his current job – and what he has acquired – are commercial skills. "After all, we don't just draw plans, we also prepare the quotation and the costing," he says. That's what makes the work so varied and versatile for him.
The work is also varied because of the diversity of the tasks. "No two switchgears are alike," reports Stefan Hagen. Again and again, he says, you have to think your way in, find solutions and then turn them into plans. "We actually see a project through from start to finish," he says. "Part of the job is to keep coordinating with the customers or the planners.". With many customers, he says, HERMOS has a partnership relationship, working together for many years and knowing the desired requirements.
This close customer relationship certainly also contributes to the positive development of HERMOS, because the success story goes on and on. The company is growing and therefore new employees are being sought in all areas. The ideal starting position would be people with experience in control cabinet construction and further training as a master craftsman or technician. Basic knowledge of EPLAN P8 would be an advantage. However, lateral entry would also be possible, in which one can also consolidate one's electrical engineering skills internally first for a few months in enclosure construction and then in testing, in order to finally switch to electrical design.
"Electronic know-how is enormously important," says Stefan Hagen. For him, HERMOS is the ideal employer, because he also appreciates "the good working atmosphere." The cooperation with colleagues is right, and the managers also play an important role. "Perhaps the fact that we are all on a first-name basis contributes to the positive atmosphere," says Stefan Hagen. In addition, HERMOS offers many opportunities for personal development and promotion. In any case, Stefan Hagen will still be designing many switchgears and will always be involved with fun and enthusiasm.