New distributor in Japan
HERMOS AG appoints Kuroda Electric as the exclusive distributor of its RFID products in Japan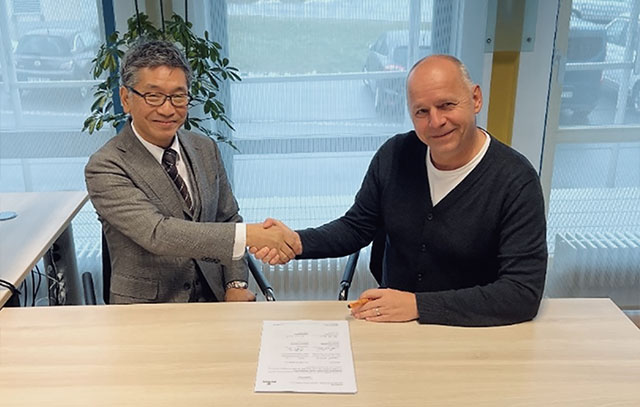 The Japanese company Kuroda Electric, headquartered in Tokyo, will exclusively sell the RFID products and solutions of the RFID Division of HERMOS in Japan – with a focus on the semiconductor industry and its suppliers in the country. After the companies have been working together very successfully for more than 12 months, both sides have now agreed on a long-term partnership.
Above all, the physical proximity ensures smooth and fast communication and supply. With Kuroda Electric CZ, the new distributor has a location in the Czech Republic (Prague), which is only a few hours away from HERMOS (Mistelgau). The existing logistics and freight connections from Europe to Japan ensure a perfect and very fast supply of the Japanese customers of HERMOS and Kuroda with RFID products for the semiconductor industry.
Markus Behr (HERMOS RFID) says: "With Kuroda we have found a very reliable and competent partner for our business in Japan. Our customers can now pay in their usual currency, have short delivery times because Kuroda will have our products in stock in Japan, and get regional contacts so that new requirements or problems can be communicated quickly and easily."
Karel Kostal (Kuroda Electric Czech) says: "As Kuroda Electric Czech, we have been collaborating with HERMOS for over one year now and it has been a highly positive and productive partnership. HERMOS is a leader in the field of RFID solutions, and their expertise and innovation have been invaluable to us in expanding our portfolio to our customers. The RFID solutions offered by HERMOS are of the highest quality, and their commitment to customer satisfaction aligns with our own values. Overall, we are extremely pleased with our existing collaboration with HERMOS and are looking forward to continuing to work together to bring the best RFID solutions to the market."
HERMOS AG – RFID
HERMOS is a leading technology company with a focus on industry, buildings, energy and the environment. The RFID division of HERMOS was founded in 1994 and since then has successfully supported customers in the implementation of their projects in the RFID environment. As a developer, manufacturer and system integrator of RFID components, we can offer our customers RFID solutions tailored to their needs. Whether it's an RFID load port reader, RFID WIP shelf solutions or RFID components for transport systems – HERMOS RFID covers the entire spectrum of a semiconductor factory. We supply machine manufacturers to equip their tools with RFID, but also directly to chip manufacturers to retrofit their existing fabs with RFID.
Kuroda Electric Czech
Kuroda Electric Czech is a part of Japanese Kuroda Group, leading provider of advanced technologies and solutions worldwide. With a focus on innovation and customer satisfaction, the company is dedicated to delivering the best products and services to its customers.