Career start in Schnaittenbach
HERMOS site offers exciting prospects for electrical engineering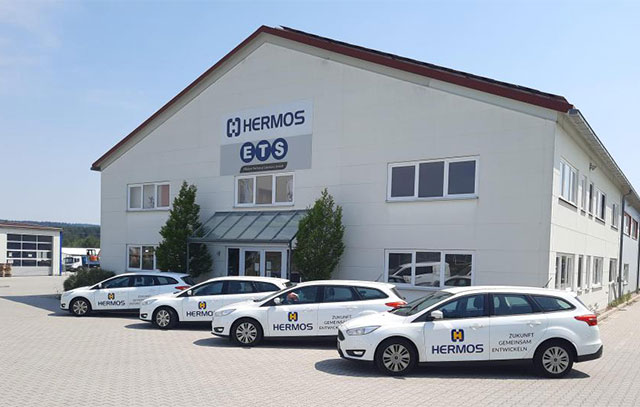 HERMOS AG operates a site in Schnaittenbach. This opens up exciting career prospects for technology and electrical professionals in the Upper Palatinate, because the company, headquartered in Mistelgau in Upper Franconia, is a specialist in state-of-the-art process and building automation. Its customers include the Who's Who of German industry – from food manufacturers to carmakers.
In-depth expertise
With this location, HERMOS intends to further expand one of its fastest-growing business areas: Highly specialized MSR technology, short for measurement, control and regulation. "In Schnaittenbach, a lot of know-how has been available in this field for years," emphasizes Andreas Kuhbandner, who manages the branch. Here at Scherhübel 14, ETS GmbH has long operated a competence center for electrical engineering, he says. In the course of a merger, the site was finally transferred to HERMOS in 2021.
Since then, the expertise on site has been massively expanded – and the team has also grown. Currently, around 90 employees work in Schnaittenbach. They develop customized automation solutions for large industrial and production companies. But the HERMOS team also plays a leading role in the automation of building technology and energy systems, because the company is known for advanced automation – state-of-the-art automation processes supplied from a single source. A competence that is in demand across all industries in times of digitalization: "Our order books are already full until the end of the year," says Andreas Kuhbandner.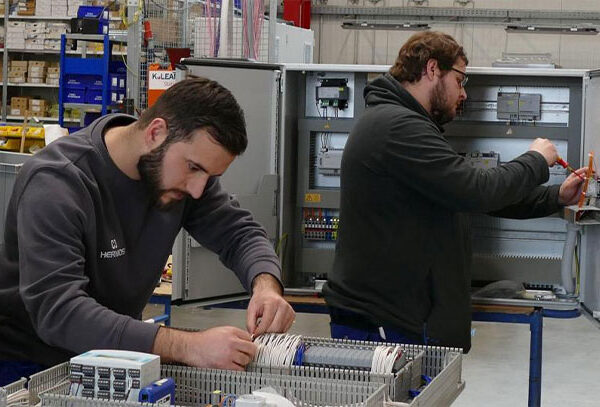 Dynamic team, relaxed working atmosphere
To keep up with the high demand, the HERMOS team in Schnaittenbach is to grow further. "But not at any price," emphasizes the branch manager. It is important to him that the atmosphere in the team is right: "We treat each other like family. As a result, the working atmosphere is relaxed, even though we work at a very high professional level here."
This balance is well received: In addition to numerous professionals from the electrical engineering sector, the location is particularly appealing to career starters, such as apprentice electricians. "They work with us at the cutting edge and can really take off professionally," says Kathrin Spickenreither, HR Manager at HERMOS. This is ensured by the personnel development matrix, a multi-stage career model that enables individual career paths. Depending on their knowledge, skills, experience and commitment, employees can develop further and take the next career step.
"We place a lot of trust in our employees and support them to the best of our ability," emphasizes Andreas Kuhbandner. What's more, exciting projects are on the agenda in the Upper Palatinate. For example, they are involved in the development of high-performance test benches for the automotive industry. Or on energy systems that create more sustainability by means of artificial intelligence. "What others consider to be dreams of the future, we put into practice here," says Andreas Kuhbandner. True to the HERMOS motto: Developing the future together.
Apply now!
For the location Schnaittenbach HERMOS AG is looking for reinforcement, especially electricians, site managers as well as electrical designers (m/f/d). If you have any questions, please contact Kathrin Spickenreither, phone +49 9279 991-453.
You can find all job offers in Schnaittenbach under Our jobs in the job portal (Schnaittenbach)